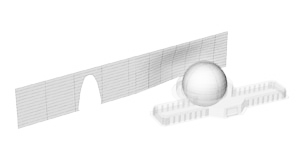 Conceptual Dialogue of New and Existing The dome at the existing planetarium assumes the role of a heavenly body that causes the surrounding space-time fabric, the new planetarium in this case, to distort. Through the warping curtain wall as a response to the existing planetarium dome, a conceptual dialogue between the existing and the new planetariums is thus established.

Chinese Typographic Fonts Different typographic fonts of Chinese calligraphy.
Peep Show Peep show device.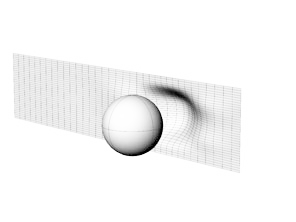 Space Warp Warping curtain wall due to the mass around it.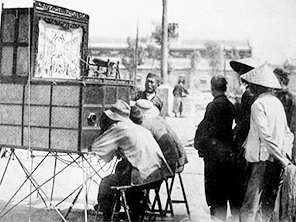 La Yang Pian La Yang Pian (pulling film strip): an early viewing devise of motion pictures.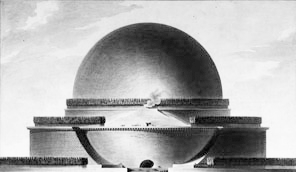 Boullee's Cenotaph Boullee's Cenotaph for Isaac Newton (1784) is an architectural embodiment of Newtonian cosmology written with primary forms of Euclidean geometry.
Chinese Word Making
Words are made of single or multiple ideograms. The meanings of words are derivatives of the meanings of the ideograms, of which they are made.
The Sun
The Rain
Combination: Change
Applying Chinese word-making methods in design to develop the narrative capability of architecture for the purpose of expressing the core ideas pertaining to the essence of the project program. Hieroglyphics, or ideograms, are created out of building components; the placement and interactions among the components will give rise to interpretative reading and, eventually, knowledge of the chosen subject-idea, such as the state of contemporary cosmology.